Counting down to our Worship Service
Worship Services may also be viewed at "First Baptist Seguin" on www.vimeo.com,  www.youtube.com or facebook.com if this website becomes overloaded.
Ask for prayers & pray for others.
CHURCH WORSHIP - SUNDAYS AT 10:30 AM
CHURCH UPDATE - JULY 24, 2020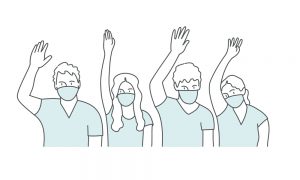 Business Meeting August 9  6:00 PM
We will hold a Business Meeting in the Fellowship Hall on Sunday evening, August 9 at 6:00 PM.  You may attend either in person (with masks and spacing) or via zoom by pasting the link below into your browser.  We will review new members, finances, recent repairs, and address any questions which you may have.  You may vote either in person or online either by raising a hand or by using the "thumbs up" icon in the "reactions" tab at the bottom of the zoom page. You may download a packet of reports by clicking on this link: 2020 08 FBC Seguin Business Meeting Packet
Join Zoom Meeting
https://us02web.zoom.us/j/86520544268
Worship Services
We are continuing to have our regular morning worship services at 10:30 AM on Sunday mornings for those who wish to attend in person.  We also have our nursery open on Sunday mornings for children birth thru three years old.  At present, and for as long as the statewide mask ordinance is in effect, we ask that those attending wear a mask, with the exception of those participating on stage.  Masks are available at all of the entrances to the building.  For those who are at high risk or for other reasons would prefer to worship from home, the service may be watched live on this web site or by going to First Baptist Seguin on Facebook, Vimeo, or YouTube.  We operate five separate cameras during the service, and if you would be willing to be trained to help in this area in order that all of our members can view the services, please contact the church office and let us know.
Church Activities
Due to the corona virus spike in Seguin at the present time, all other on-campus church activities have been postponed or cancelled.  We will have no Sunday or Wednesday evening services until after Labor Day at the earliest.
Small Groups / Sunday School
At present, we have not set a firm date for regathering for Sunday School and Bible Fellowship Groups; it will depend on the number of local active cases of corona virus and the trend.  When we do regather, it will likely be phased in beginning with our preschool, children, youth, and adult groups with children in the home, and then moving to other groups as time progresses.  As we begin to regather, we will arrange rooms so participants are facing the same direction and not have tables at first, and will likely ask participants to wear masks.  As the virus subsides in the area, we will ease up on meeting restrictions.
Blessings,
Pastor Brice
1314 E. Cedar St.
Seguin, TX 78155.
Sunday School (All Ages) currently not meeting
Sunday Worship 10:30 AM