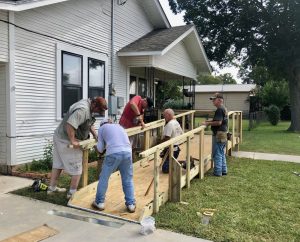 We love our city and want to be the tool God uses to change it for the better. FBC has multiple opportunities to serve on varying days and times.  If you would like to volunteer, contact .
Food Distribution                                                                                                                                                                                                                        A collaborative project between New Braunfels Food bank, GRMC, the Catapillar plant of Seguin and local area churches. To receive food, click here.
Seguin Youth Services
Help children with reading or math for thirty minutes to an hour one afternoon per week
Smoke Detector Ministry
Install smoke detectors in homes around Seguin in conjunction with the Fire Department.
Meals on Wheels Driver
Deliver meals to area homes for those who are homebound or disabled.  You may schedule as few/many mornings each month as fits your schedule.
Christian Cupboard
Volunteer with food sorting and distribution one morning per week
South Texas Pregnancy Center
Serve as a friend to those concerned about a pregnancy – help in other capacities including yard work, sorting, cleaning, and more!
Texas Ramp Project
Help build a home ramp for wheelchair bound individuals in Guadalupe County
Guadalupe Regional Medical Center
Volunteer in many capacities to help the functioning of our local hospital.
Nursing Home Ministry
Assist in a worship service for residents at various times and days.